diabetes When our bodies do not make enough Insulin or when the Insulin is not used properly, it is called Type 2 diabetes. Type 2 diabetes is common amongst overweight adults above 40 years of age but sometimes children who are overweight are also diagnosed with it. With Type 2 diabetes the symptoms are slow to detect.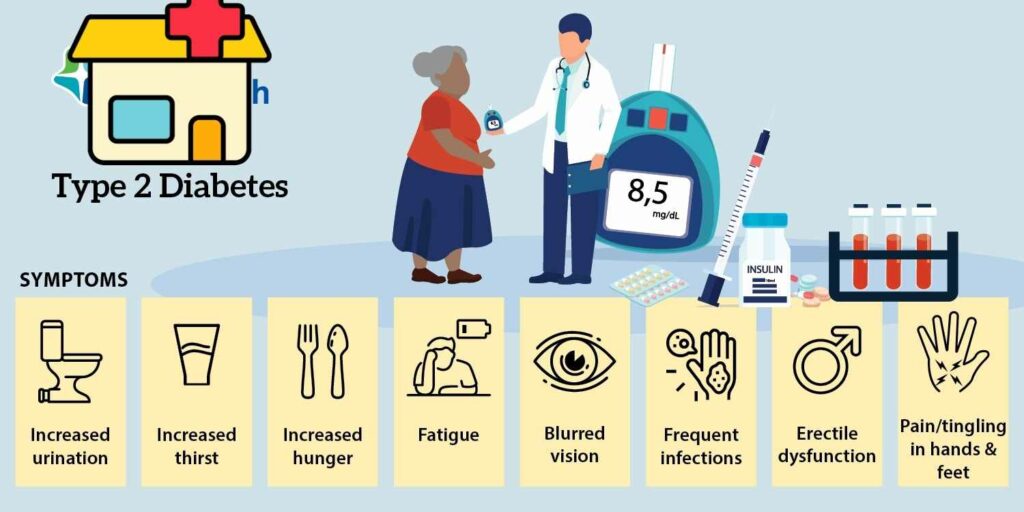 Often people don't realize that they have them. People who have a parent or a grandparent who have diabetes are likely to get it too. With type 2 diabetes it is important to exercise regularly, eat a healthy balanced diet, take medications or insulin regularly.
Type 2 Diabetes Symptoms:
Increased thirst and constant feeling of dryness in the throat
Increased frequency of urination especially at night
Increased hunger
Unexplained weight Loss
General lack of energy
Repeated fungal infections of the skin
Delay in healing of wounds
Blurring of vision
We have introduced type 2 symptoms which is same in type 1 diabetes also , if you body showing any symptoms reach to doctor and consult about it .
Still we are listing down risk factors of type 2 diabetes so you are well prepared about this and fight back .
Type 2 Diabetes Risk Factors :
Type 2 diabetes is caused by several factors, including lifestyle factors and genes. Some of the risk factors for type 2 diabetes include
Internal body structure
Excessive weight
High blood pressure or cholesterol
Family History
Gestational diabetes
Environmental Factors
Also Check: What Is Type 1 Diabetes & It's Symptoms,Risk factors, Treatment
Management
Following a healthy diet and eating plan
Exercising regularly
Oral medication: Certain oral medicines are given to maintain the blood sugar levels under control
Insulin: not all individuals with Type 2 DM, need to take Insulin, but in cases where the oral medicines alone cannot control the blood sugar, addition of an Insulin dosage on a regular basis will help keep the blood sugar levels in control.
Monitoring blood glucose levels regularly
Consult your doctor to know more about types of medication suitable for you.